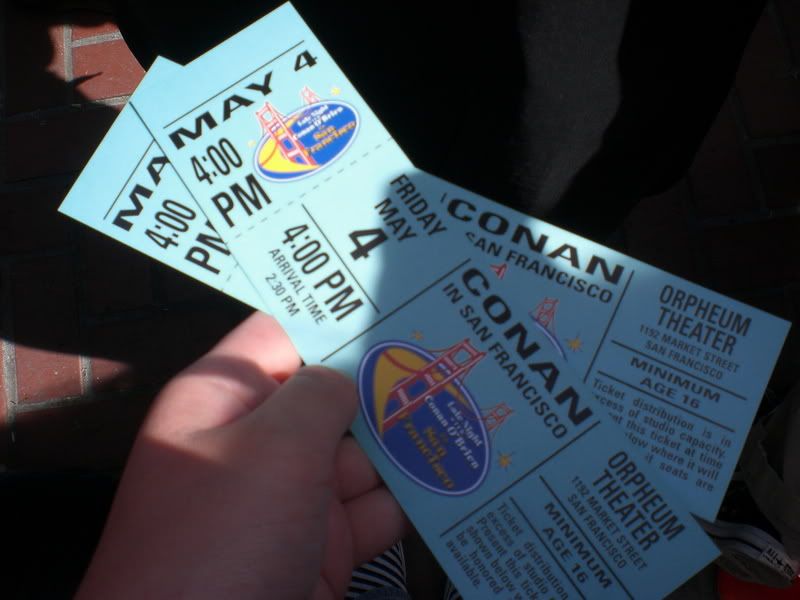 HOLY SHIT BEST DAY OF MY LIFE!!!!!!!!!!!
mmkay well after ap bio [where we did a lab measuring each other's blood pressure] theresa and i walked over to my psych class so that i could check in with ms.chin [didn't have to take the test today because i was so stressed out over my ap econ and ap calc finals]. ms. chin seemed to take forever to get to class so theresa and i finally walked down the hall and caught her before she walked into class. so after telling ms. chin that i was here..jenn t, theresa, and i headed down to the orpheum theater on market street. it was already noon so the entire time i'm panicking because i was afraid that we'd be all the way at the end of the line. FINALLY. we get there and the line is soooooooooo long...there were four different sections and we were in the third one. meh. we got our tickets and i stood in line for another three hours [theresa headed back to school].

random things that happened in line
-the two guys standing next to me were talking about whitening their teeth
-the brother and sister next to me kept asking around if the line was a nonsmoking line until they finally stood near the barricade and smoked for pretty much the entire time. they also kept telling each other jokes. my favorite:
Why did the woman cross the road?
Who the hell let her out of the kitchen?
And who gave her shoes?
-the college/grad students near me were talking incredibly loud. the asian guy mentioned how he was there when blink 182 made their live cd ["YEAH ONE OF THE SCREAMS...THAT WAS ME!"]
-once theresa got there, i had to use the bathroom but all they had was the nasty portapotties. i went inside a couple of times but couldn't do it. finally i walked over to the carl's jr and used their bathroom. it was hilarious, because there was only one restroom for customers and everyone waiting in line was female. several times, a guy would walk past the line thinking we were all waiting for the ladies room, until he'd get there and one of us would tell us that there was only ONE RESTROOM. haha.

the doors opened at 3:15 and we rushed past security and were quickly wanded. finally got into the theater which was sooooooo nice. we ended up sitting towards the back on the floor, but we still had pretty good views [however, the one lady in front of me was super tall and her head blocked my view a couple of times].

okay a couple of things-
- before the show started, the guy who plays preparation h raymond came out and told us the general rules. my favorite: "don't use any flash photography because conan is an albino and we can't expose him to any flashes of light or anything that resembles sunlight." [... something like that]
-max weinberg and the max weinberg 7 came out and started playing for a little bit...
-the screen on the side had the "Late Night at SF" logo until it changed to something with numbers...joel came out and everyone went crazy because we knew it was going to start
-finally max begins the intro and joel starts his announcement and by then it was SO INCREDIBLY LOUD...i couldn't hear anything joel was saying..
-..."and your host...CONAN O'BRIEN!" holy shit...most exciting two seconds of my life watching conan emerge from the side..
-someone threw leopard undies up to the stage...and there was this girl who stood up [you can see it on tape...] and shouted "HERE!" and threw a t-shirt [i think...it was white] and that's when conan said "I'M NOT FEDEX YOU KNOW..."
-conan's voice was actually a lot higher than i thought it would be..or maybe it was just the acoustics in the theater...?
-during the intel remote...conan stood there and then walked over to the stage hands...drank some water...and walked behind the foot of the bridge..
-during the chuck norris clips, conan would stand there and watch it...but when he knew the clips were ending, he would put on his expression.

-and when tom waits played...conan walked towards the wings...and then disappeared into the shadows
-yeah..i spend most of my time watching conan because i knew i could just watch the clips at home =]
-the band plays throughout the commercial breaks and this one time conan actually started doing the twist! omg it was so cute. yeah, he acknowledged the audience a lot during the commerical breaks.

after the show, i asked one of the ushers if conan would be coming out at the end of the show. she told me yes, and that it was in fact the one door that we passed by when we were heading into the theater. theresa and i ran [well i ran..and theresa walked] over to the little area that they had near the door. we had barricades and caution tape to separate us from the door. originally i stood behind this asian dad and his daughter..both were extremely tall and the dad was kind of rude. joel goddard, the announcer came out, but he only signed autographs on the other side. the best part was when i shouted "JOEL!" and the other guy next to me said "WHO THE HELL IS JOEL?" HAHA. theresa was hanging onto the side of the barricade so i moved over to her and we had a pretty good view. max weinberg came out but he didn't take pictures or give autographs...he did, however, wave to the family in the minivan that just happened to be driving by with their video camera in hand. WTF. haha. a bunch of production people came out, including jordan the star wars nerd [who's actually pretty hot] and aaron the late night blogger. after awhile one of the production ladies decided to widen the areas for us fans; originally, it was maybe 6 people wide, but then they made it 10 people wide! now this was extremely important because theresa and i were both on the barricade that they used to widen...SO we were now at the FRONT!!! we went from, being unable to see anything, to being right THERE. shit. we were hella lucky. i owe that woman A LOT.

now, i actually brought my conan dvd to get signed [which many of you have seen]....i was actually the only one with it because there was this lady with blue eyeshadow on the other side who asked me where i got it [oh and one of the production guys asked to see it too]

lady in blue eyeshadow: EXCUSE ME, BUT IS THAT A DVD?
me: YEAH IT'S THE 10TH ANNIVERSARY ONE
lady in blue eyeshadow and the couple next to her: WHERE DID YOU GET THAT?!
me: umm.. at target..like two years ago..
lady and couple: *disappointed* OHH....
lady: I'M SORRY BUT COULD I SEE THAT?
me: DO YOU WANT A PICTURE OF IT?
lady: YES CAN YOU HOLD IT UP?
me: UM..OKAY..
so yeah...it turns out i was the only one there with a conan dvd. people were actually somewhat jealous! HAHA.

FINALLY FINALLY FINALLY [i keep using that word...] at 6:15 [which is what i have on my camera] CONAN MOTHERFUCKING O'BRIEN CAME OUT!!! omg omg omg..the crowd started pushing like crazy and unlike the people to the right of me, i didn't have a barricade to protect me, rather, i had a protective cone and theresa had caution tape. but it was surreal. conan started signing things like crazy on our side, then he moved over to the other side and then he went back to our side. when he moved over to our side, the first thing he grabbed was my dvd which theresa was holding out for me since one of the security guards was blocking me [he spent an hour flirting with the three girls next to me haha]. and then THIS IS THE BEST PART. he stood right in front of me and signed autographs for the people near me and the people behind me!! MY HEAD WAS TWO INCHES AWAY FROM HIS CHEST! OMGOMGOMGOMGOMG IT WAS LIKE WE WERE IN A HUG BUT OUR ARMS WEREN'T TOUCHING! HAHA I WANTED TO THROW MY ARMS AROUND HIM BUT I WAS SCARED THAT HE'D FREAK OUT OR THAT THE SECURITY PEOPLE WOULD YELL AT ME.

me: conan, can i get a picture with you?
conan: just take it man, because i can't take one with you....

[he was in a hurry...he didn't take any pictures with anybody except for that one girl with purple hair according to theresa..apparently, she threw her arms around him so he had to take a picture with her.] BUT STILL CONAN O'BRIEN ACKNOWLEDGED ME! AND HE TRIED TO SIGN MY DVD AGAIN UNTIL I TOLD HIM THAT HE ALREADY DID!

OH MAN THAT WAS SERIOUSLY THE BEST FIFTEEN MINUTES OF MY LIFE!! I'M GOING TO STOP NOW BECAUSE THIS POST HAS GOTTEN WAY TOO LONG BUT DON'T WORRY I'M CURRENTLY UPLOADING ALL OF MY PICTURES!